"Huh? – The Joys, Sorrows and Comic Relief of Miscommunication"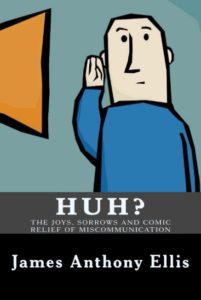 Huh? The Joys, Sorrows and Comic Relief of Miscommunication" is a satirical view on this silly thing we call "communication." This is a lighthearted yet biting look at the mishaps, misfires and blunders we experience as we attempt to send and receive messages in this modern age. This hands-on "how-to" manual outlines the various "miscommunication" techniques in interpersonal relationships, as readers are guided to laugh at themselves and the errors of their ways. In the end, however, the laughs turn to tears as the author uncovers the true intention of all of our words and e-mails and texts and tweets: a desperate yet endearing need to connect with one another. ($16)
Learn and Discover:
How to "win" your next conversation.
How to use the most prominent "Models of Miscommunication" to pretty much create dismay and disaster.
How we somehow disconnect from those we love the most.
How laughing at it all can help us turn it all around for everyone's highest good.
How dearly we love one another.
Available HERE and at Bookstores Everywhere.
Previous Event