"Huh? – The Joys, Sorrows and Comic Relief of Miscommunication"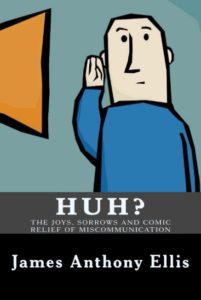 Available HERE and at Bookstores Everywhere.
Huh? The Joys, Sorrows and Comic Relief of Miscommunication" is a satirical view on this silly thing we call "communication." This is a lighthearted yet biting look at the mishaps, misfires and blunders we experience as we attempt to send and receive messages in this modern age. This hands-on "how-to" manual outlines the various "miscommunication" techniques in interpersonal relationships, as readers are guided to laugh at themselves and the errors of their ways. In the end, however, the laughs turn to tears as the author uncovers the true intention of all of our words and e-mails and texts and tweets: a desperate yet endearing need to connect with one another. ($16)
Learn and Discover:
How to "win" your next conversation.
How to use the most prominent "Models of Miscommunication" to pretty much create dismay and disaster.
How we somehow disconnect from those we love the most.
How laughing at it all can help us turn it all around for everyone's highest good.
How dearly we love one another.
TESTIMONIALS
I'm enjoying your book immensely. I can't get enough of it!!!!!
  ~ Belinda Farrell

Just bought Jim Ellis new book signed & stamped! A comic relief of miscommunication. It sure helps to get some pointers on how to effectively communicate our thoughts & feelings… Especially among family members during the holidays! Thanks Jim
~ Cassandra Kendall
"Huh?" is a fun and witty romp through the joys and sorrows of miscommunication…in a most entertaining way. Ellis not only warns us and educates us on what we miscommunicate, but he also gives hilarious examples (with REAL LIVE QUOTES – ha!)…from conversations, like…between Snowden and Obama to eavesdropping on an Angel and "Buttinsky". I would say that "Huh?" appeals to all ages – as the new bible of how (and why) we miscommunicate. I whole-heartedly commend Ellis' latest work to those with a love for great humor and a desire to grow personally in improving the communication…er, miscommunication, in their world.
~ Darrell Gaul, San Diego, CA
"I'm reading Huh? Very good and easy to read and understand."
~ Wendy Janon

Available HERE and at Bookstores Everywhere.
PREVIOUS EVENT FLYER