"It has never been more important to recognize the thousands of men and women in law enforcement who do the right thing day in and day. Let us not lose sight of how vital their role in society is and how a small gesture of appreciation from the community can make all the difference to them"
    ~ Jeff Davis, Retired Chief, El Cajon Police Department


"Having support from the community means everything. It reminds me of why I wanted to do the job in the first place and why I will keep doing it. Because I want to stand for what is good in our community. Gratitude is powerful. When we are reminded that the community is grateful for its law enforcement officers, we align ourselves with the true purpose of the policing profession. A profession of serving others. And when we focus on the gratitude we feel for the community and their support, we are able to serve that community as compassionate guardians."
    ~ Katy Lynch, Lieutenant, La Mesa Police Department

"Support for police is paramount for a safe and prosperous community."
    ~ The Officer Next Door, Former Officer, Popular Blogger

---
Thank You Blue Day – 3 Ways To Show Our Support

3 OPTIONS – #ThankYouBlue Day May 14 – Detailed Below
Appreciation – Simply thank an officer if you happen across one on May 14, through the weekend.
Selfie – Respectfully request a selfie and post it on social media with the hashtag. Or post one you already have.
Video Clip Support – Let it be known what you can do to support law enforcement.
It is time!
In response to the wave of negative commentary around policing, we bring a national campaign that broadcasts a supportive voice for law and order and those who uphold it.
No longer quiet. No longer passive. No longer watching on as a silent majority. Proudly we step forward and show appreciation for our police officers and the almost-impossible job they do, day in and day out, to hold the line and be a presence for law and order. Imagine a different type of message regarding law enforcement – this one supportive, positive and uplifting.
This will go viral. It's called #ThankYouBlue
Click on Press Release HERE: Thank You Blue Press Release
---
#ThankYouBlue – Can I Get a Selfie With You?
Thank An Officer, Request a Respectful Selfie and Upload It Here
---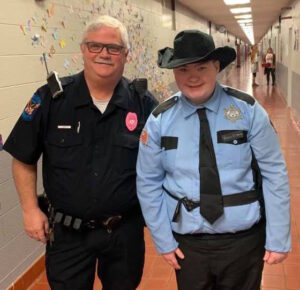 KICK-OFF – Friday, May 14, 2021 – National Police Week

This doesn't replace or make commentary regarding the accountability for our officers in the job they do. It will, though, focus on providing a new narrative of positive support, full of gratitude and appreciation for the honorable job done by so many in our nation.
#ThankYouBlue
WHAT YOU CAN DO:
OPTION 1 – Make it Simple
Simply thank an officer respectfully with a direct communication or  if you happen upon one on your day.
OPTION 2 – Take a Selfie
During your day, if you come upon a police officer, walk up respectfully.
If authentic for you, thank the officer for the job he or she does in your neighborhood.
Make a request: "Thank you Blue; can I get a selfie with you?"
Maintain proper etiquette, as COVID mandates request, and follow local laws.
If you get a selfie with the officer, send the photo in through the FORM AT TOP and place your photo on Twitter or Instagram or Facebook with the hashtag #ThankYouBlue.  (Or post a selfie you ALREADY have.)
OPTION 3 – "What I Can Do…"
Send in your own personal statement of support by coming up with your own sentiment around what you could do to support the best relations with the police is.
Example HERE
DIRECTIONS:
Hold your phone/camera sideways.
Finish the phrase "What I can do is…" with what you can specifically do to create good relations with law enforcement.
Send to JimEllis1103@Gmail.com (Using WeTransfer.com if need be).
Post on Social Media with #WhatICanDo and #ThankYouBlue.
Sponsored by Legacy Productions' "Keeping The Peace" movement & "The Officer Next Door."
Keeping The Peace Movement found HERE

The Officer Next Door Facebook Site found HERE
#ThankYouBlue