"A morning without Morning Musings is like a day without Chai."
    – Belinda Farrell

MORNING MUSINGS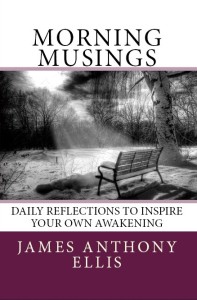 Available
HERE
and at Bookstores Everywhere.
Every morning for one year I committed pen to paper, committed mind to inspiration, so that there could arise daily morning musings – stray and not-so-stray thoughts designed to uplift and encourage. These reflections were composed with the intention to ignite something within you, so that your own contemplation could lead you to great places within. Not intended to be simple notions that everyone would find agreeable, these musings are to be mulled over, perhaps even meditated upon, so you can receive the highest gift … from your own introspection. I carry no supreme truth – just one vantage point, born of one night-cleared mind, and one wish to share.
November 9 = "Curiosity is the cure for all fights." October 5 = "I like watching the news – it makes me feel better about reality." April 14 = "In a successful marriage, the two are considerate of the other … the 'other' being the relationship." January 15 = "Do not thank me for what I do that you see as uplifting and helpful. Do not thank me. Join me."
… And more. Look within.
Open these pages and enjoy a daily morsel of reflection as award-winning writer James Anthony Ellis gifts you with a morning musing. One for each day of the year, these fun and poignant notions knock at your mind, heart and soul, with the intention to lead you inward for your own deeper awakening.