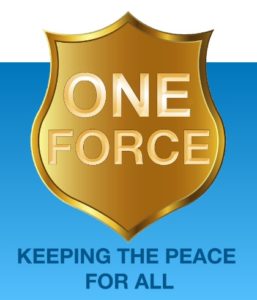 Even with recent negative press and publicity, the overwhelming percentage of police protect us from the dark side of life and must cope with the unimaginable. The life-saving film "Keeping The Peace" supports this wellness on all levels and has been the initial inspiration for a movement that includes:
1. Video content for a POST course through the Institute on Violence, Abuse and Trauma, regarding officer mental and emotional wellness.
2. Video content for a POST course through National University, regarding Community Policing and Organizational Wellness.
3. The "One Force – Keeping the Peace For All" Special Event – originally scheduled for National Police Week in May 2020 at the Qualcomm campus, now looking towards May 2022 for a live event.
4. #ThankYouBlue campaign – Two ways to show your support of law enforcement: thanking an officer with a respectful selfie, or sending in your soundbite of support. SEE DETAILS HERE.
THE FILM – THE MOVEMENT
On May 14, 2019, the 33-minute Keeping the Peace film premiered during National Police Week at the beautiful Peace and Justice Theatre at the University of San Diego. Since the premiere, agencies from over 35 states have ordered the film. At this time, audiences can purchase the film for a local police agency at a discount.
The movement continues: to acknowledge honorable policing, and to recognize and celebrate the best relations between law enforcement and the community it serves. The police are there for us. Let's be there for them. We'll be there for each other … in One Force.
---
For 2020 NATIONAL POLICE WEEK, Legacy Productions chose to honor our officers in two ways.
1. A piece of prose here, for the intention of building best relations between the public and law enforcement. Connection is key now, more than ever. With the challenges posed by the present landscape, it's so easy to fall into an us vs them. We'll do much better if we remain "one force" for the good of all.
2. A video on what we all can do to build best relations between public and police. LINK: https://youtu.be/PHFMxNHqWno Contact Legacy Productions if you yourself would like to add into "What I can do…"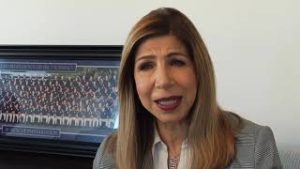 To Purchase a DVD for your own screening, connect with the director

HERE

.
Support this campaign directly HERE.
---
Why I'm Standing up for our Law Enforcement HERE.
Promotional Video of what officers have seen while on duty HERE.
Endorsements
Summer Stephan, San Diego District Attorney
https://youtu.be/b-MEOuzgpnk
Stephanie Samuels, Founder and Director of Copline, Inc.
https://youtu.be/7oAEIY0x7FM
Deanna Dotta, of the Wellness Unit San Diego Police Department
https://youtu.be/PjntCKvmof8
Heather Seddon, Detective, San Diego Police Department
https://youtu.be/nPTOdo1HSjo
Sarah Creighton, Retired Assistant Chief, San Diego Police Department
https://youtu.be/THjqF328q7w
Phillip C. Tingirides, Ret. Deputy Chief / Commanding Officer, LAPD with 38 years of service
https://youtu.be/NfKz3hZxaA8
Manuel Rodriguez, Ret. Chief, National City Police Department
https://youtu.be/ZoXpycOeetg
Retired captain of the La Mesa Police Department, Author of "Bulletproof Spirit"
https://youtu.be/YnU7265rf9s
Lori Luhnow, Police Chief, Santa Barbara Police Department
https://youtu.be/Jhqeu4jxyvE
Terry McManus, Police Chief, Capitola Police Department
https://youtu.be/5mc9q9z2A_E
UPDATES
JUNE 28
I am so excited to let you know that today I had the honor of interviewing Manuel Rodriguez, Chief of Police for the National City Police Department. He was articulate, positive and uplifting in his message about supporting his officers in their full state of wellness. The best part was our aligning on the highest vision for the film. (See that HERE.)
Chief Rodriguez and I spoke about the monthly Chief of Police meeting for July. He mentioned that he'll see if I can attend and bring the concept of the project.
San Diego District Attorney Summer Stephan is also following up on the agenda for this July meeting of the police chiefs.
I'm getting closer to confirming the male police officer who can provide his success story. Three candidates at present. This will provide a good example to accompany the story from Heather of the SDPD, who is already confirmed.
On June 27, which just by chance was PTSD Awareness Day, I was a guest on the radio show "Rescue the Rescuer" along with retired special agent Victor Resendez. It was a lively discussion about the plight of first responders, and how we need to ensure they are taken care of in ways not routinely considered. Victor kicked butt. So did Stephen, the host. The show will be broadcast in the next couple weeks HERE.
A funny one. I was interviewed by Leland Dieno for his podcast … AND I DIDN'T EVEN REALIZE IT!  Ha. I somehow mistook an actual recording with a preliminary conversation, and after our phone call ended, I realized that this may have been recorded. I checked and, yup, that was the interview … recorded while I drove from Rubios to Starbucks on Broadway.  🙂  The link for this broadcast will be available in the next two weeks.
Chris, my close contact from New Jersey who has ties to the NYPD and Homeland Security, is supporting me with securing input from family members of police officers. I felt it important to hear from the family of officers, so Chris will help me in gathering some soundbites of their experiences. If you know of any family members of law enforcement who would want to contribute to this project, let me know and we can talk.
The Questions for Family include:

What have you seen in the behavior of your loved one?  Answer by starting with the line "I have seen…"
How has it impacted you in your life?
What do you want for your loved one? (ie "I want to see them happy and relaxed"  "I want to go on vacations…")
JUNE 27
Today is PTSD Awareness Day. The goal has always been to bring awareness to the topic of trauma experienced by law enforcement and first responders and then provide solutions to address, treat and prevent further symptoms of this trauma. That is the goal; the higher vision is peace for our peace keepers and for best relations between the police and the public. We're all in this together.
Interviews are now set in the near future with:
Chief of Police Manual Rodriguez, National City (Video testimonial above)
Wellness Unit, San Diego Police Department
Commanding Officer, LAPD, Alfred Labrada
Retired Assistant Chief Sarah T. Creighton
Two present-day officers who have success stories to tell
JUNE 16
Big news is brewing for the "Keeping The Peace" film.  The project is exploding and I'm happy to report the update:
Heather Is a Yes! – A wonderful, open and transparent police officer in the San Diego Police Department got approval to speak on film about her experiences on the force and her healing from trauma. Heather was shot in the neck after a foot pursuit. Her comeback story into wellness will inspire many. We'll be filming in two locales in early July – on the job in the Clairemont area, and her home with her supportive husband.

La Mesa Officer – I have two contacts who are reaching out to an officer Tim who has an incredible success story – coming back from his own post-traumatic injuries. This would help me round out the real-life "stories" of present-day officers for the film.
National City PD is a Yes! – I'm in conversation with Sgt. Shepard about the best time-table to interview appropriate personnel from this department, including the high possibility of the chief of police here.
NYPD, Homeland Security – I'm in contact with a supportive friend of mine, Chris, whose father was a commanding officer over 15,000 officers in the NYPD in the 1970s. Chris presently has connections with NYPD and Homeland Security, and will assist me in gathering various footage. He was 10 when his father was held hostage by the Black Panthers, and has his own trauma he has had to heal. He will tell his story.
Sycuan Police Department – A close contact is reaching out to this agency to speak with its chief.
Border Patrol – Another close contact is reaching out for commentary and participation from the nearby border patrol, which would have their own stories to tell.
On June 13, retired special forces agent Victor Resendez and I presented the project to the La Mesa Rotary. We were very well received by the club, and a number of contacts were made, including Jerry who brought the idea of expanding the audience of the film to law enforcement families, and officers who have already retired or left the force. Great idea Jerry!
Chaplain is a Yes! – At the Rotary event a chaplain, Dani, introduced us and later agreed to be part of the film. I was searching for a chaplain to be a part of this, and there she was introducing me at an event!
On June 27, Victor and I will be the guests on an Internet radio show called Rescue the Rescuer (LINK HERE).

On August 10, I will be a guest at the local Sunrise Rotary off the 8 freeway and 70th street in San Diego. I'm still confirming who will co-lead this with me.
LAPD is a Yes! – A mutual friend got me in touch with an LAPD Commanding Officer who is willing to speak about how Peer Support and his agency helps officers needing to overcome any symptoms of stress and trauma. I am sending questions over so he can clear them with his Public Information Officer. The Los Angeles Sheriff will also be contacted in case I can film both on the same day.
There you go. So much good news!
Ready to tell a story of wellness, healing and hope. Thank you for your continued support.
JUNE 9
UPDATES / MOVING FORWARD
I filmed an interview with Nancy K. Bohl-Penrod, Ph.D., director of The Counseling Team International, which oversees officer support in agencies across the nation. This was an eye-opening interview that put a new vantage point on wellness for our law enforcement. Her bio HERE.
NBC TV's Rory Devine is working on granting me permission to use footage from one of her story segments HERE. This San Diego Wellness Unit is supporting the project in varous ways.
Big News – The Chief of the National City Police Department has given the green light to support the film, and asks what ways the department can assit. I have asked if the chief himself, Manual Rodriguez, will go on camera stating his belief in officers receving support in their wellness. Think how huge that will be for all the officers below him in knowing how safe it would be to reach out for support.
On June 13, retired special forces agent Victor Resendez and myself will present the project to the La Mesa Rotary. PowerPoint all ready to roll!
On June 27, we'll be the guests on an Internet radio show called Rescue the Rescuer (LINK HERE), whose audience are those same first responders who are dealing with results of post-traumatic stress, and look for the hope we all can share.
MAY 30
Hello!
Two more days before this campaign closes, midnight Thursday, May 31!!!
An update to our campaign to bring peace to the minds and hearts of the law enforcement, to the streets, and ultimately to the relations between the police and the public.
Along with an officer highlighted in the film, I have been invited to be a guest on the Radio Show "Rescue the Rescuer". (Link: http://www.blogtalkradio.com/rescuetherescuer).
I'll be joined by retired DOJ undercover agent Victor Resendez as we present the film project to the La Mesa Rotary on June 13. Polishing up a PowerPoint for this and other presentations to come.
I met the La Mesa police chief at a local gathering, we addressed the project, and he took documentation to review.
The San Diego District Attorney continues to be supportive of the project and wants to discuss my potential presentation at the gathering of the local Police Chiefs. I truly believe if we can have the chiefs participate in the film, endorsing the idea of officers getting the support they need around their wellness, it will change a culture where some may be concerned about asking for help.
I will continue to offer brief updates to this project, even after the completion of this particular campaign. This film will be made.
Thank you again for your support.
If you know anyone who has shared interest at all, let them know about the deadline: Tomorrow – Thursday, May 31, midnight.
May 23
Hello Sponsors,
New Update.
Keeping you all in the loop on the gift we are giving to the law enforcement agencies – both local and nationally. The progress on the educational film "Keeping The Peace" is gaining momentum!
The word is getting out about this project and people are talking about it, sharing it across social media. It's a topic that goes under the radar for various reasons. At the same time, it's a conversation we need to have. Lives are at stake.
I've reached out to 18 special interest groups that support police on the wellness front. Groups include the "National Alliance for Law Enforcement Support," "National Police Wives Association" and "Stand With Blue Line."
I will be presenting at the La Mesa Rotary on Wednesday, June 13, along with retired special agent Victor Resendez. We'll have 30 minutes to present our PowerPoint on the effects of stress and trauma on law enforcement, and what can be done about it.
Much more is going on behind the scenes, but we'll keep it here for now.
If you ever have any questions, please let me know.
It will take a team effort to see this through.
Thank you for being on this team.
May 14
Hey there supporters of the "Keeping The Peace" campaign.
Although it's only been two weeks since I kicked off this project, there has been a flurry of activity. It's true what they say: leap and see what happens!
And I wanted to give an abridged bulletpoint update for you all:
I interviewed 2 wonderfully genuine and authentic retired police officers (Victor Resendez and Valinda Sutton) about what they endured as officers, for a promotional video. (https://youtu.be/wl2vUSirTp0)
Dave Hall of the "CopLine" support hotline contacted me requesting we join forces on this project, as they provide a solution for officers suffering with PTSD.
Dan Willis, retired captain, author of "Bulletproof Spirit" and expert trainer on the topic of PTSD, was interviewed in depth about his knowledge on the subject. A short endorsement video was created. (https://youtu.be/YnU7265rf9s)
Deanna Dotta of the SDPD Wellness Unit is lining up two current officers to share their current story of overcoming PTSD through the wellness program.
I met with National City Police Department's Sergeant Steve Shephard, who liked the project so much he is taking it to his chief, who is a huge proponent of wellness on the force.
I received a call from Nancy Bohl of the Counseling Team, which offers counseling to a number of agencies throughout Southern California. I will film her on May 21 as she will be in San Diego at a training.
A listing of 94 other contacts are organized in a spreadsheet, all potential contacts to make this gift a reality.
PRESS RELEASE
To help ease the post-traumatic stress that may haunt local police officers' dreams and waking life, Lemon Grove resident and filmmaker James Anthony Ellis has taken on a project to document some of those traumatic triggers as well offer pathways of support.
A 30-minute educational film – titled "Keeping the Peace" – will be gifted to police agencies across San Diego and then the nation for in-house training of officers. The purpose? To bring awareness to the stresses and traumas experienced by officers and law enforcement personnel while on duty in order to empower them to normalize their emotional and mental responses to on-the-job experiences and to take action in alleviating, diffusing and treating the symptoms of trauma (PTSD), so that they can retain wellness in all areas of their lives.
Today's stats can be grim:
According to Officer.com, there are an estimated 150,000 officers who have symptoms of Post Traumatice Stress Injuries (PTSI). Recent research indicates that 1/3 of active-duty and retired officers suffer from post-traumatic stress, with some unaware of this condition.
Badge of Life Organization states law enforcement officers are 1.5 times more likely to commit suicide than the general population. With over 100 suicides per year – the #1 one killer of police officers is … law enforcement suicide.
According to researcher and therapist Beverly J. Anderson: "More than any other occupation, law enforcement is an emotionally and physically dangerous job. Police officers continuously face the effects of murder, violence, rape, child abuse, accidents and disasters. Long hours, rotating shifts and constant exposure to tragedy exacts a heavy toll on police officers and their families."
Says Ellis, who is presently fundraising to complete the film, "Police protect us from the dark side of life and must cope with the unimaginable. This film guides them to address emotional trauma they face. The police are there for us. Let's be there for them."
Donations can be made though the Chuffed crowd-funding platform from May 1 through May 31.
Ellis took on this project after the success of his previous documentary "Indoctrinated; The Grooming of our Children into Prostitution" garnered so much attention and created large-scale positive impact. After viewing "Indoctrinated" at a 2017 screening, Sergeant Matthew Blumenthal of the San Diego County Sheriff's Department told Ellis he wanted to show that film to everyone in his human trafficking department. This inspired Ellis to consider other types of documentaries that could serve in a like manner.
Said Ellis, "No matter your impression of officers, these are human beings who need to be in sound mind, steady emotion and physical balance. We need them to be at their best."
Ellis says he understands there exists a conflict for police officers who may fear appearing weak and unsuitable for a job if they ask for help in dealing with emotionally wounding experiences. But he believes the time is right for caring for the plights of these officers.
A steady supporter of the film, Sergeant Katherine Lynch of the La Mesa Police Department Training Unit, said, "For too long, officers have suffered in silence. We can no longer afford to ignore the effects of critical incidents on the men and women who wear the badge. Until the day comes when we no longer lose a single officer to suicide, we have a tremendous amount of work to do and any tool in our toolbox can help us save a life."
If Ellis has his way, the officers will know the responses to trauma are normal, and realize reaching out for support is completely understandable. His list of purposes for the film include:
For officers to receive the clear message that they do have options in dealing with the stresses, and they can retain wellness in all areas of their lives.
To ensure retiring officers are given back to their families as healthy citizens: emotionally, mentally, spiritually.
To see a cultural shift, as officers are seen as humans needing the same sort of support we all need.
To see an industry shift, where officers know it's safe to receive the support they desperately need but may not feel free to ask for.
To support a vision of peace officers who truly keep the peace, for themselves, our neighborhoods, and our society.
Ellis has already gathered a list of 40 potential interviews, along with the verbal support of the San Diego District Attorney Summer Stephan.
Funds that are raised will go towards three months of production costs, to include: equipment rental, pre-production research, the production of outlining the film and filming the footage, and the post-production of editing, adding music, titles, and disseminating the film where it can be of best use.
Said Maxine Lynch, Past President of the California Peer Support Association, "Having a training film such as 'Keeping the Peace' available will absolutely help us educate the people in the departments who will need to know about and need to utilize peer support systems."
Those wishing to support this campaign can contact Jim Ellis HERE.